Massoth Product List→ Massoth eMOTION Power Buffers→ Massoth eMOTION Power Cap Micro
---
Massoth eMOTION Power Cap Micro
Product number: 8151601
$59.90 plus shipping
Please contact us to order
In stock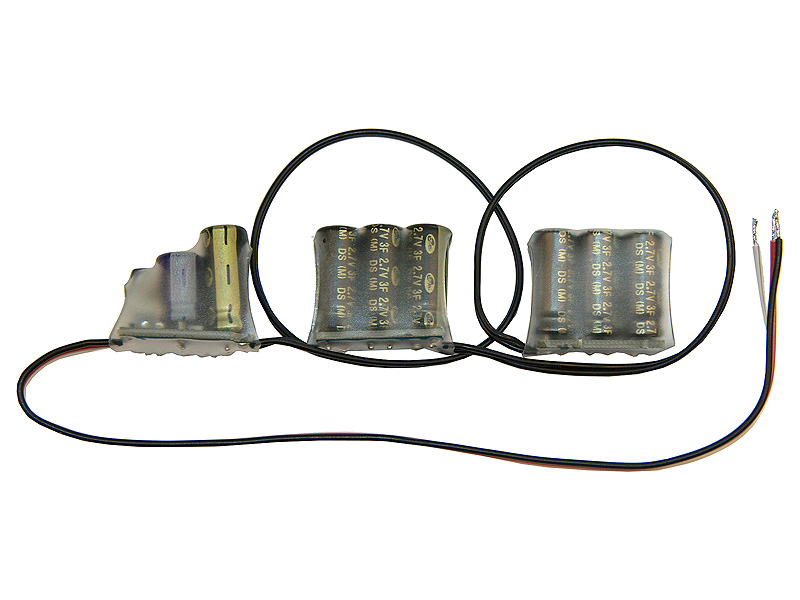 The eMOTION Power Cap Micro supplies power to a decoder for up to 30 seconds in case of power interruption. It ensure the safe operation of locomotives in cases of poor track contact or power interruption at switch frogs and contaminated track sections. The Power cap is especially designed for G scale locomotives or sound modules with a maximum power consumption of 1Amp.
An integrated intelligent circuit makes the eMOTION Power Cap Micro suitable for use with all decoders that have decoder+ and decoder- terminals (e.g. Massoth, LGB®, Lenz®, Zimo®). But, it is especially suitable for use with Massoth eMOTION decoders.
All current Massoth decoders feature a buffer control (BC) terminal. Connecting the Power Cap to the BC terminal, insures trouble free operation during power-up and programming. The decoder controls the charging of the power buffer and automatically disables charging during programming and CV reading. A switch is provided to manually control and disable charging when the Power Cap is used with other third party decoders.
The eMOTION Power Cap Micro supports standing sound operation in analog mode. When the Power Cap is connected to the BC terminal of a Massoth sound decoder, the decoder automatically switches the buffer on and off to power standing sound in analog operation.
Technical specifications:
Maximum operating voltage: 6....24V DC
Maximum current consumption: 500 mAmps (@22V digital voltage)
Maximum current output: 1Amps
Maximum recharging time:45 sec. (if completely discharged)
Buffer time: up to 30 sec. (depending on load, speed, and charge)
Tested with Massoth, LGB®, Lenz®, and Zimo® decoders
Dimensions: 3 PCBs - 25 x 15 x 24mm
Scope of delivery:
eMOTION Power Cap Micro
Switch
User's Manual


User's manual
---