Massoth Product List → Massoth Automatic Uncoupler
---
Massoth Automatic Uncoupler, 2 pack
Product number: 8414002
$119.90 plus shipping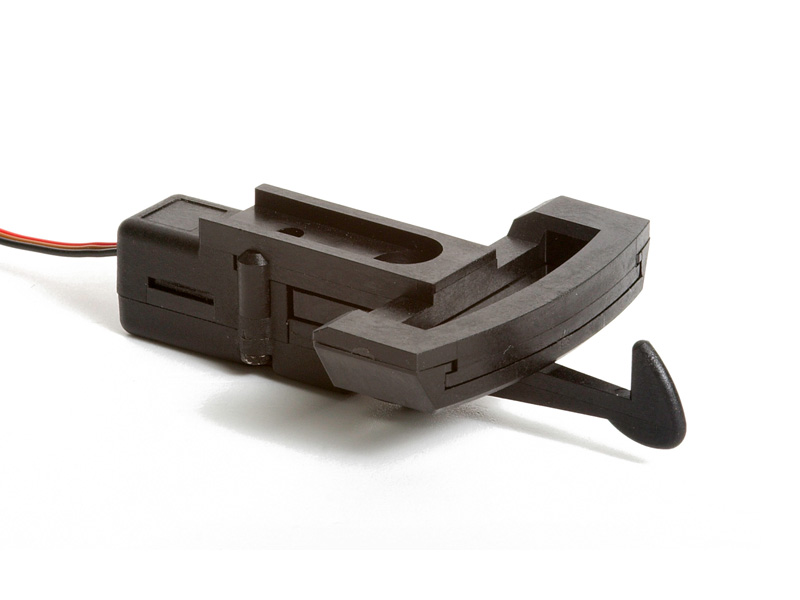 The Massoth Automatic Uncoupler may be used to remotely uncouple a locomotive from a trailing train simply by pressing a button. It fits easily in many G-Scale locomotives from LGB® and other manufacturers.
The uncoupler is made of black fiberglass plastics, in proven injection molds, for maximum durability and stability. It is compatible with LGB's standard hook and loop couplers, and may be used with any standard digital decoder.
The uncoupler consists of a drive unit and a mechanical unit. A miniature motor and the requisite micro electronic circuitry are fully integrated in the drive unit. The motor lowers and raises the uncoupler's hook up and down, while the mechanical unit pushes and pulls the uncoupler's loop forward and backward.
Only one uncoupler is needed for remote uncoupling, even in cases where coupling is symmetrical.
Technical specifications:
Operating voltage: 16-22 DC (no DCC)
Current: ~ 200mA for motor, ~ 30mA for function input
Temperature range: -4°F to 122°F
Scope of delivery:
Two (2) automatic uncouplers
Two (2) screws
User's Manual


User's manual
---